"We wouldn't go back to that other life for anything…. The freed
om we have is simply amazing. And while we still deal with everyday life, there is serenity all around us. It's a slower pace, a simpler life, and we are much more deeply connected and happy."   Howard Payne, Full-Time RVer and RV Freedom Now Story Contributor
Have you ever thought about traveling this great country of ours? You know just driving from state to state and seeing all the great things our country has to offer? The Grand Canyon in Arizona, the beautiful Rocky Mountains in Colorado, Mount Rushmore in the Black Hills of South Dakota, the Space Needle in Washington, the White House and all the other national Monuments in DC and so much more. The list of beautiful places you can visit is almost endless. You can see all these things and so much more in your very own RV.                                                    So many people have found that traveling in an RV is preferable to flying or driving in a car because it is more comfortable and less expensive because you do not have to pay for lodging or eating out. It is also more comfortable, private and there are less stops for restroom breaks! So load up the family and friends and get on the road to adventure and discovery! 
LET RV LIVING FREEDOM RING!                              
If you are dreaming the freedom of Full-Time RV Life…
It's time to stop dreaming and start doing!
You
can
get started right now
and have a life 
of adventure on the road.                                                                                                                        
Discover the 10 Steps You Need
to Live the Ultimate RV Lifestyle

from Real-World People Already Doing It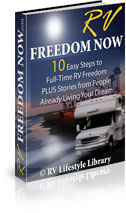 Choose Freedom and 
Thank you for visiting our site. Please feel free to browse around and come back often as we are always adding new things. Be sure to register on the right side so that you can receive updates on the awesome things we add.